In 1984 we moved from Idaho to Beaverton, OR. The Chuck Wagon was towed behind the moving van. I'm sure it was worth less than the cost of moving it, but alas, we weren't paying the bill. But that summer we parted with it in favor of a new Dodge van.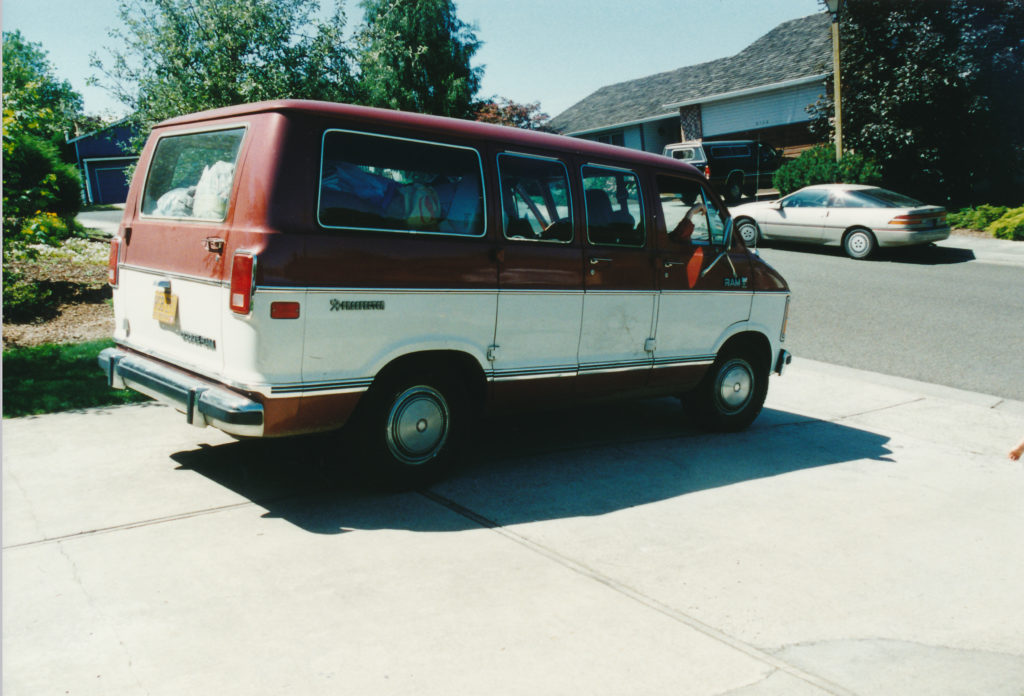 We now had plenty of room, and air conditioning. We couldn't believe such luxury. Our son Daniel was so excited he would tell everyone "Hey, we got a new van, buddy!" It was only a minor setback when the battery exploded a few months later, spraying acid on the paint.
This van was our family workhorse from 1984 to 1996. So many family memories are associated with it. I'll relate just a few.
In 1986 I took the van on a scout outing. I still can't believe I did this, but I allowed one of the boys to drive the van a short distance for some purpose, and darned if he didn't crash it into some railing by the road. He said he swerved to avoid a dog. We had some minor body work done, but fixed the bumper only with glue and tape.
Daniel decorated the interior of the van more than once with byproducts of car sickness. On one trip he ate too much red licorice, which led to some long lasing redish stains in the upholstery.
On one trip home from So. Cal. to Oregon we were driving through the night and encountered snow near Mt. Shasta. The engine sputtered, then died as I pulled off a freeway exit. I opened the hood, looked around, and was at a total loss what to do. Meanwhile, inside the car our young daughter Teresa suggested they say a prayer to get us back on our way. And darned if the car didn't start right up when I got back in, and drove us fine all the way home.
Near the end of its days with us, we filled the van to the brim with donated goods for Daniel's Eagle Scout project, and delivered them to a migrant workers camp.