Recently we were at an event where families of CdLS afflicted children (like Daniel) gathered informally to converse and share a meal. When our turn came to tell about their child I related that Daniel was an entrepeneur. Indeed, he has his own business collecting bottles and cans to return to the store for their deposit refund.
Last year there was a 5 cents deposit for most bottles and cans, and Daniel worked hard around the neighborhood to collect them, then take them to a local grocery store to feed them laboriously into the redemption machines, print a voucher, and redeem them for cash at the register. Sometimes we would drop Daniel off with his bottles and he would spend several hours at the task before we would see him again. He had to contest with temperamental machines which constantly malfunctioned and required store personnel to address. He might have to wait his turn at the machine. And some stores gave him a hard time when he had too many bottles. He would come home with $20 or so on a good day.
On January 1st this year the depost was raised to 10 cents, so Daniel got his paycheck doubled. Plus Oregon added more bottle types. Some stores upgraded their machines and life was good. But as his business grew and he got more clients feeding him bottles, he still had problems with stores limiting his take to 144 bottles per day, plus lines and machine malfunctions.
Then we learned about Oregon bottle deposit redemption centers, with one about 7 miles from our house. We have started using that almost exclusively. Roughly every other week we take Daniel down there with his multiple bags full of bottles and cans. Sometimes there is a line, but it usually goes quickly enough, as there are 7 high speed machines, and they rarely malfunction.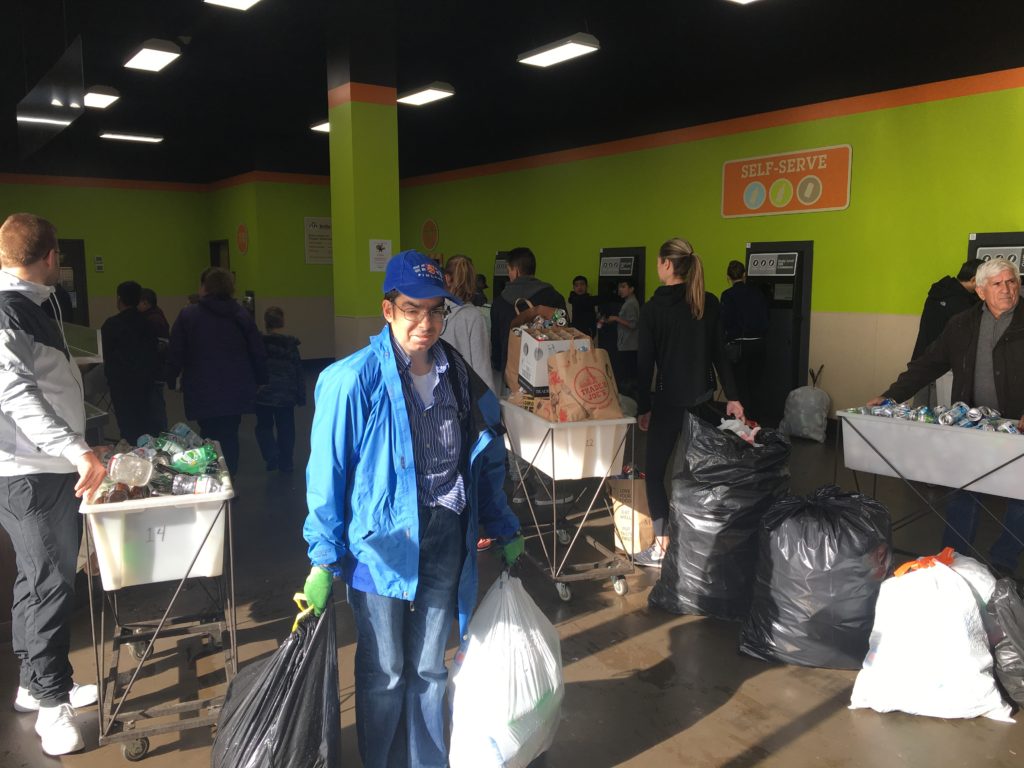 Here is the machine where we feed the bottles: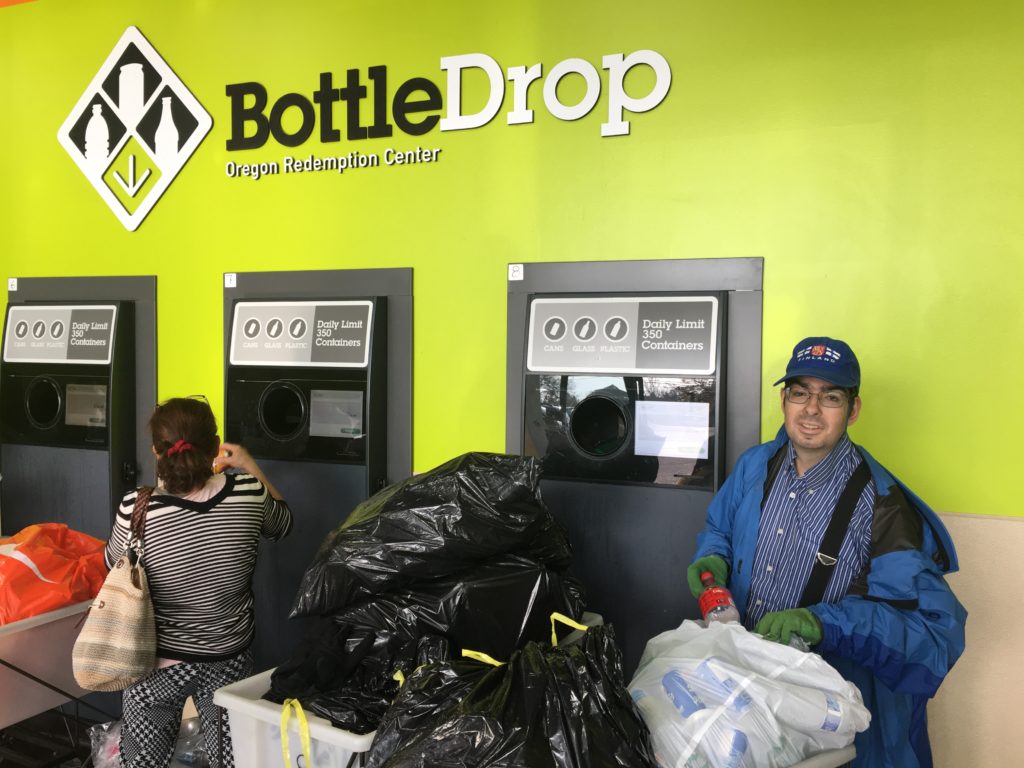 We signed up for an account which allows us to fill two bags per visit, and they will count the bottles later and credit his account. Here is the kiosk for that: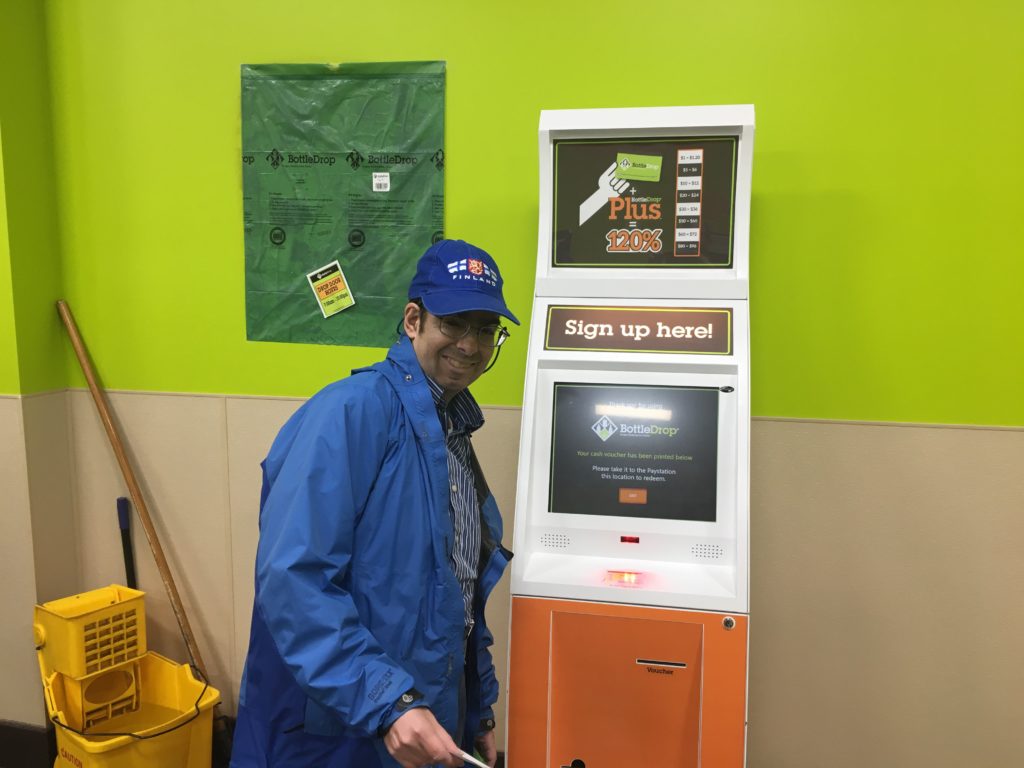 Here is the machine for dispensing cash for vouchers:
And here is the window where we drop the green bags they will count:
Here is our side yard which Daniel's enterprise has pretty much taken over: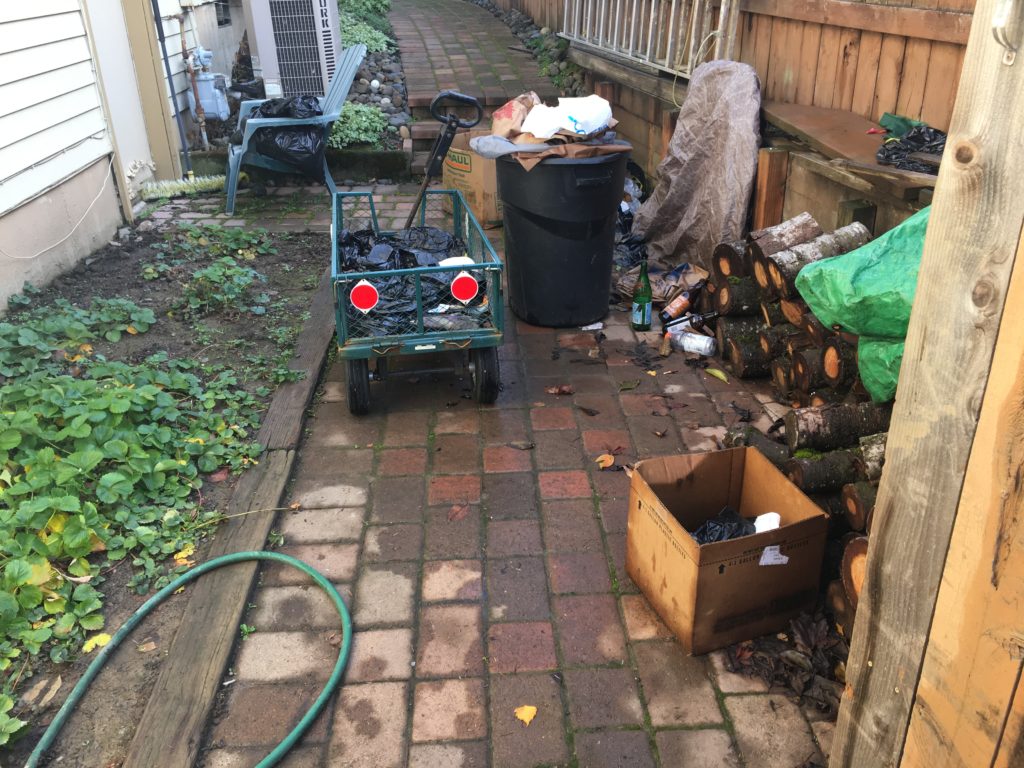 This is a great thing for Daniel. This week he collected $55, and two weeks ago $75. Besides the benefit of the spending money for him (he buys food with it, for the most part) this project really gives Daniel purpose and satisfaction in his life. He gets so excited about which neighborhood will have recycling the next morning, and he is on his way out the door by 5:30AM.